In Memoriam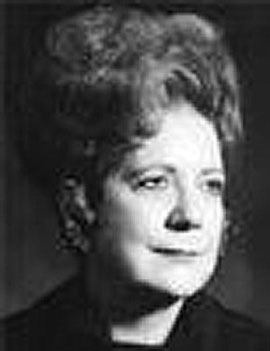 Isabel Scionti

Pianist, Teacher, Artist and Inspiration

February 16, 1912 - June 26, 2002
from the Fort Worth Star-Telegram:
Isabel Laughlin Scionti
1912 - 2002
Isabel Laughlin Scionti, acclaimed concert pianist and teacher, died June 26, 2002, in Denton.
Funeral: 10 a.m. Saturday at United Methodist Church in Premont. Memorial service: 3 p.m. July 7, 2002, at the University of North Texas Music Recital Hall in Denton.
Memorials: the family requests that memorials be made to the Isabel Scionti Piano Scholarship Fund at the University of North Texas.
Dr. Scionti was born Feb 16, 1912, in Premont to Charles and Mattie Laughlin. She began planning melodies by ear when she was 3 years old. Her mother, seeing that Isabel she was talented, began looking for teachers in South Texas. When Isabel was 11, her parents took her to A&I College in Kingsville for lessons.
Dr. Scionti attended Baylor University where she studied with Roxy Grove. Upon graduating with honors, she acted on her teacher's advice to study with no one but the esteemed concert pianist, Silvio Scionti, at Chicago Musical College. After earning her master's degree, she became Silvio Scionti's assistant, and soon afterward became his wife. The Scionti's began playing two-piano concerts. They achieved high acclaim in major cities in Europe, Mexico and the United States.
Their debut at Carnegie Hall drew rave reviews in 1938. They again played there in 1939 with the same success. The Scionti's were renowned for their Bach interpretations. They created musical history by performing the first all Bach two-piano concert in Town Hall on Dec. 5, 1941, and by giving two Philco Television concerts in Philadelphia in 1942 where serious music was presented for the first time on that medium. The Scionti's were recording artists for RCA Victor.
In the early 1940s the Scionti's moved to Denton. Isabel Scionti set up her private studio. She taught students of surrounding areas, as well as some students who were studying with Dr. Scionti at North Texas State University. At one time she had 80 students.
Among her honors, she was selected as the Outstanding Teacher of the Year by the Texas Music Teachers Association. She was a principal judge and benefactor to the Kingsville International Isabel Scionti Piano Solo Competitions. She was a lifetime member of Sigma Alpha Iota and the Denton Music Teachers Association.
Throughout her life Isabel Scionti was consumed by the art of playing the piano, and raising it to the highest level. Isabel Scionti's greatest legacy is the vast number of her students who excelled as pianists and musicians throughout this country. She was indomitable in spirit, and would do anything to help students progress in their musical lives.
She was also married to William R. Hicks who preceded her in death.
Survivors: Sister, Lucille Kibbe Martin; numerous nieces and nephews; and a host of loving students and friends.
Published in the Star-Telegram on 6/28/2002.




If you would like express your condolensces
on this page, please write to
Donald Collup
(donald@collup.com)