meeting my first diva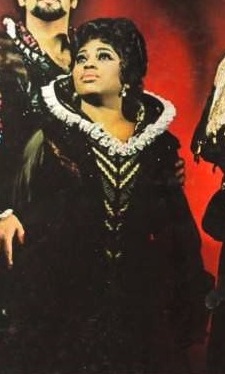 My brief peak as a boy soprano occurred during the month of February, 1969.

The first time I found out about Leontyne Price was from the late conductor Luis Berber. He was associated with the Mexico City opera (not sure)) before and after his haf decade as an associate conductor of the Texas Boys Choir. Very much like young Muti - good looks, beautiful black hair, exacting musician. I remember him saying a few times that the singer Leontyne Price had the most beautiful voice our our day, the mid 1960s.

During three February weekends of 1969, the Texas Boys Choir gave what was called Connoisseurs Concerts, sacred and secular, all of which conducted by George Bragg. The 3 Friday night concerts consisted of three Mozart works (Ave verum corpus, Laudate, dominum (Vesperae Solennes de Confessore) Exsultate, jubilate/K. 165) and Schubert's Mass in G. I sang all the soprano solos.

On February 23, 1969, the St. Thomas Church Choir School was celebrating their 50th Anniversary with a special concert at 5pm, which included a commissioned work, "The Place of the Blest" by Randall Thomson, who was to come from Switzerland to conduct it. Unfortunately he became ill and had to cancel. So they asked George Bragg to learn the work in about a week or so and replace the composer. That meant that Kalman Halasz (pupil of Kodaly, accompanist for the TBC) would conduct the final weekend concerts.

George then invited me, age 14, to fly to NYC to attend the Sunday concert. My parents consented and put me on an early a.m. flight from Dallas to JFK International. George gave me explicit instructions for navigating my way from the plane to the cab stand. I still can't believe I did it. It must have been 6 a.m. or so when I successfully arrived at the Salisbury Hotel on West 57th Street. I then slept while George attended the morning festivities.

After the concert and party, William Self, St. Thomas choirmaster, George and I went to the apartment of the man who recorded the event. It was then I was told, in conversation, what and who Venanzio Rauzzini was, the castrato for whom "Exsultate, jubilate" was written.

The following day, Monday, William Self (think Thurston Howell) arranged for the three of us to be given a private tour of ethe Metropolitan Opera House by Francis Robinson. At one point,we walked into the dark hall during a dress rehearsal of Il trovatore and hard "D'amor sull'alli rosee". Mr. Robinson told us to be absolutely quiet.





March 29, 1969 - a month later




We then continued our tour, finding ourselves in a hallway with many doors. At one door, Mr. Robinson stopped, knocked and entered the room saying, "Leontyne?" I thought, oh my God, am I going to meet Leontyne Price?

I remember nothing about the meeting because at my then height, I could not look her in the eye as her costume's presentation of her more-than-ample chest endowment made me so embarrassed. And I distinctly remember the costume being much lower cut than the picture above depicts.

For the following Christmas, I asked for her recording of the opera with Domingo, Milnes and Cossotto. Around December 17th, a present in the shape of a three LP box set appeared under the tree. One day, when I was home alone, I delicately unwrapped it, played it as much as I could, re-wrapped it and put it back under the tree. I must have done this three times. I was wrapping and re-wrapping this like a forensic pathologist.