FLORENCE FOSTER JENKINS

A World Of Her Own

A documentary by
Donald Collup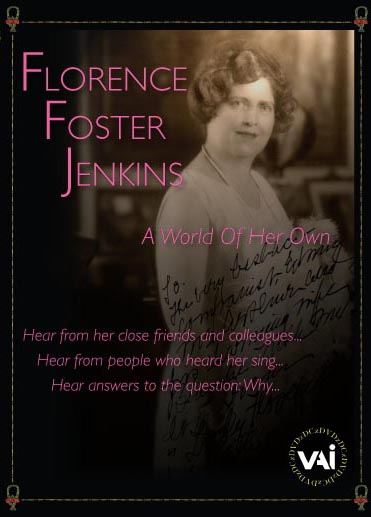 "Donald Collup has created a documentary that finally
tells the unvarnished truth about the phenomenon that was Florence Foster Jenkins.
[It] makes compulsive viewing. Collup is to be heartily congratulated."

JEREMY NICHOLAS
Gramophone Magazine, April 2008


"This thoughtful documentary by former-singer-turned-filmmaker Donald Collup....
endeavors to answer all Florence-related questions, using voiceovers of actual witnesses
and effective readings from memoirs of friends...
wonderful descriptions that conjure up a surreal presence.
Now we can know about the woman behind those amazing quarter tones."

IRA SIFF
Opera News, August 2008


"...this film is a successful evocation...
Donald Collup's film scintillates with details."

RENAUD MACHART
Le Monde, August 25, 2008


"recounts the delicious destiny of Florence Foster Jenkins...
a DVD has now appeared that clearly re-establishes the facts"

ERIC DEHAN
Libération, August 28, 2008

Under The Piano Stool


Mercury: Jenkins' Treatment for Syphilis
NBC Nightly News: Mercury in Silver Amalgum Fillings, December 10, 2010


amazon.com Reviews

My Theory About The Jenkins Phenomenon

maxbass.com

A Day for Cosme

Sir Thomas Beecham's recommendation for a Christmas record, 1959


Continue...