FLORENCE FOSTER JENKINS

A World Of Her Own

A documentary by
Donald Collup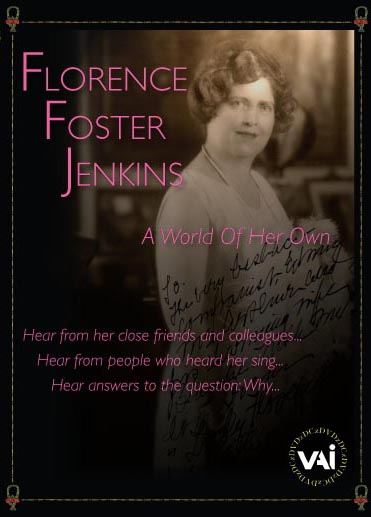 "Donald Collup has created a documentary that finally
tells the unvarnished truth about the phenomenon that was Florence Foster Jenkins.
[It] makes compulsive viewing. Collup is to be heartily congratulated."

JEREMY NICHOLAS
Gramophone Magazine, April 2008


"This thoughtful documentary by former-singer-turned-filmmaker Donald Collup....
endeavors to answer all Florence-related questions, using voiceovers of actual witnesses
and effective readings from memoirs of friends...
wonderful descriptions that conjure up a surreal presence.
Now we can know about the woman behind those amazing quarter tones."

IRA SIFF
Opera News, August 2008


"...this film is a successful evocation...
Donald Collup's film scintillates with details."

RENAUD MACHART
Le Monde, August 25, 2008


"recounts the delicious destiny of Florence Foster Jenkins...
a DVD has now appeared that clearly re-establishes the facts"

ERIC DEHAN
Libération, August 28, 2008


"Perhaps the most mindboggling treatment
is Donald Collup's meticulous documentary
"Florence Foster Jenkins: A World of Her Own (2016)."

ERIN BLACKWELL
Bay Area Reporter, March 31, 2016


"In 2007, a carefully researched, respectful, and highly entertaining documentary was issued: Florence Foster Jenkins: A World of Her Own, directed by Donald Collup with historical input from Gregor Benko. It presents an abundance of historical background that illuminates her remarkable career, and in so doing it puts to rest some of the inaccurate assumptions that naturally grew up in her wake. It is available from www.vaimusic.com, although you can also view it on YouTube. Fascinating in its own right, the documentary is particularly useful now, since Lady Florence is suddenly having her moment in the sun… In May, St. Martin's Griffin will issue a new biography, Florence Foster Jenkins, by British journalists Nicholas Martin and Jasper Rees,…"
JAMES M. KELLER
Pasatiempo, April 14, 2016

Under The Piano Stool


Mercury: Jenkins' Treatment for Syphilis
NBC Nightly News: Mercury in Silver Amalgum Fillings, December 10, 2010


amazon.com Reviews

My Theory About The Jenkins Phenomenon

maxbass.com

A Day for Cosme

Sir Thomas Beecham's recommendation for a Christmas record, 1959


Orchids, Tiaras, Minks, Ermines and Top Hats




A Journey for Jenkins

Continue...