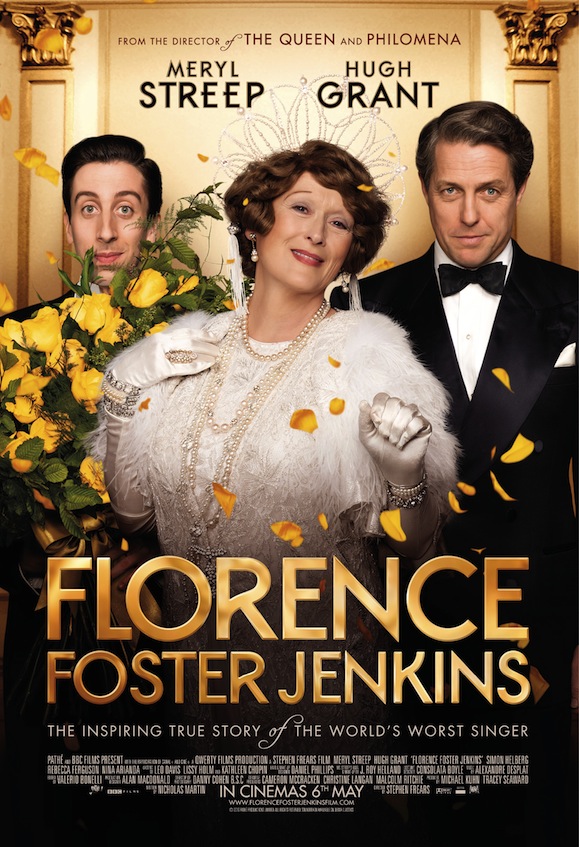 Day 6: coming in handy




Quelle jour...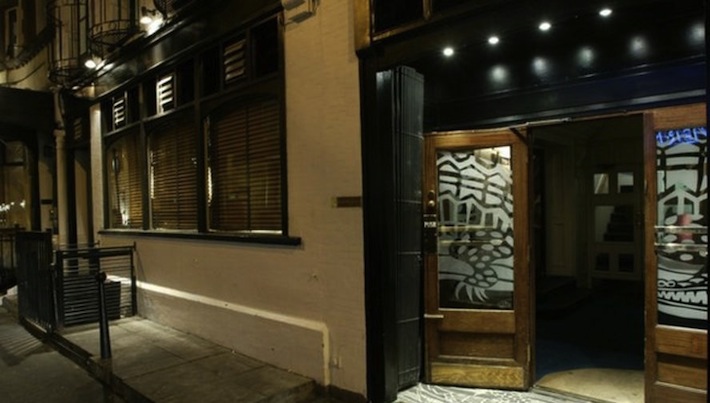 The Groucho Club



At noon, I hopped into a taxi (wearing a pink neck tie, Mme. Jenkins' favorite color) to go to the exclusive Groucho Club at 45 Deen Street, for a luncheon hosted by producer Michael Kuhn. A hostess led me to the second floor and into the bar area so that I could have the menu read to me, thereby not having to ask a guest at the table. She served me a beer, provided badly needed pound notes from my credit card and actually placed my order then and there

A few minutes later, Michael Kuhn walked in and we met for the first time. He led me to the well-lit dining room and a banquet with a rectangular table and the two of us sat down. I told Michael about my seeing the movie the previous Wednesday at the Manhattan offices of Paramount and he asked how I liked it. After my enthusiastic positive response, he heaved a happy sigh of relief.

The guests began to arrive: Tracy Seaward, a co-producer; Nicholas Martin, screenwriter, presenting me with a small gift bag containing an elegant bottle of Eau de Parma cologne; Jasper Rees, author of an exhaustively researched biography of Mme. Jenkins (which will also include the screenplay of the movie); Vicki McMunn Delgado, niece of Cosme McMoon with her her husband Reynolds Delgado. Mr. and Mrs. Delgado came from Houston, TX.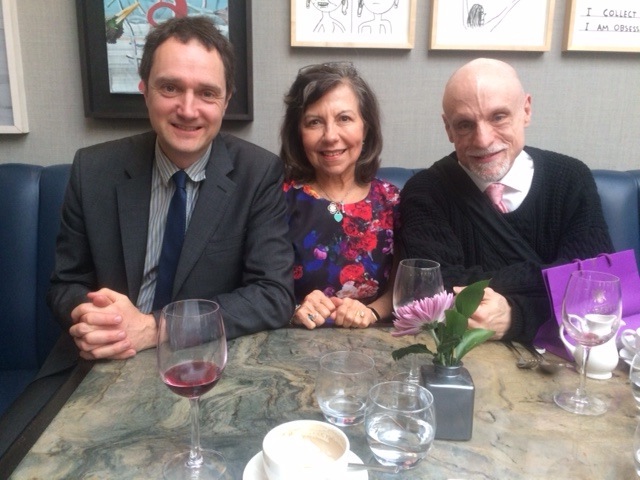 Jasper Rees, Vicki McMunn Delgado, Donald Collup



The conversation, of course, centered around all things Jenkins - Cosme McMoon, the production, the actors, the plays, the biography, etc. Ms. Delgaao brought with her very good xeroxes of images of her uncle Cosme, most of which I had never seen before, one of which was Cosme in white tie and tails standing next to a sailor in black uniform. Sometimes, historical questions were asked and Jasper and I provided answers, with Jasper being the true authority. Nicholas Martin, whose screenplay was a first time for him, spoke of his next project, a movie about the real-life theft of a Goya painting and the tale of its return.

My meal consisted of scallops with a delicious sauce, chicken paillarde with a spinach puree, and a fruit salad (which was prepared especially for me, there having been no fruit choice on the menu for dessert). I was served red wine along with a delicious cup of coffee.

As Jasper and I walked out of the restaurant, we ran into the actor who portrays Mme. Jenkins' cover-doctor in the movie. Instead of taking a taxi back to my hotel, we went by foot, discussing factual history about Mme. Jenkins, our careers, etc. He kindly pointed out areas we passed through, and landmarks such as The British Museum. I hurriedly went up to my room and put on my tux for the movie premiere while Jasper waited in the lobby. Then Jasper performed the herculean task of tying my bow tie, perfectly imperfect, as it certainly should be.

Jasper and I then walked to Leicester Square (pronounced LY-ster) which is the location of the Odeon Theater. The square was teeming with hundreds of people, all cordoned off. But first, we stopped at a nearby bar and restaurant where Jasper had an appointment to meet with his publisher and five other colleagues for a drink. James McDonald also met up with us there. I had a Manhattan, Mme. Jenkins' drink of choice. The leader of the Labour party, Ed Miliband, was seen on the red carpt. He lost the 2015 election.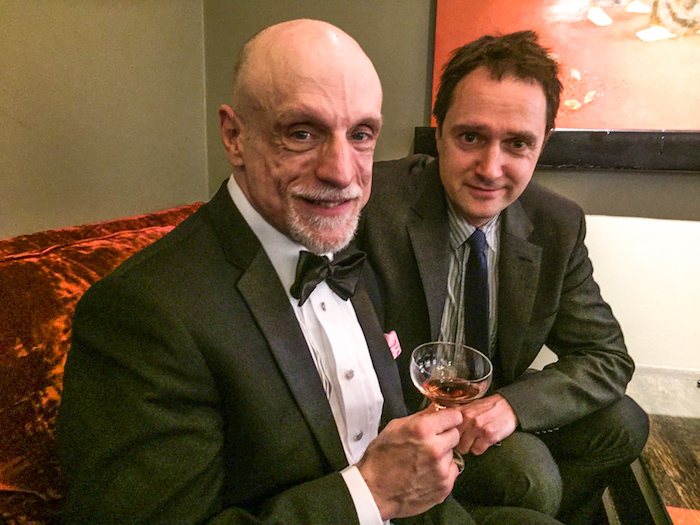 Donald Collup and Jasper Rees



We made our way through the crowd security, showing our passes, and there was the fabled red carpet.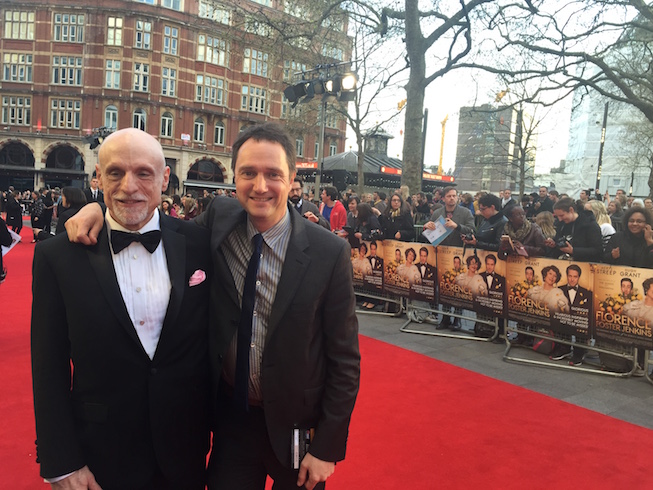 Donald Collup and Jasper Rees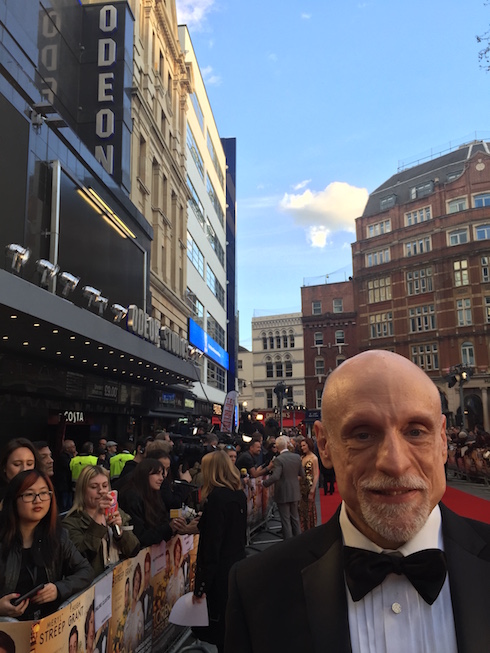 I'm higher than that cloud...
Red Carpet interview with Meryl Streep
Red Carpet interview with Hugh Grant
Red Carpet interview with screenwriter Nicholas Martin
Red Carpet interview with producer Michael Kuhn
Red Carpet interview with composer Alexandre Desplat
Red carpet video
More Red Carpet interviews
Red Carpet views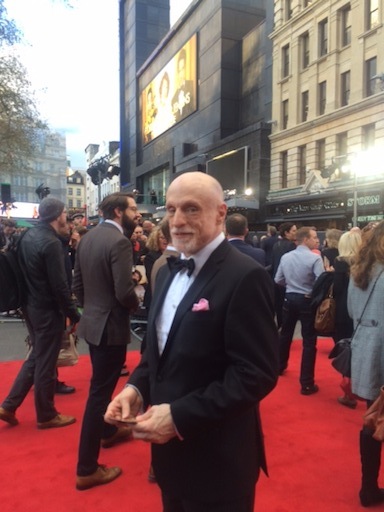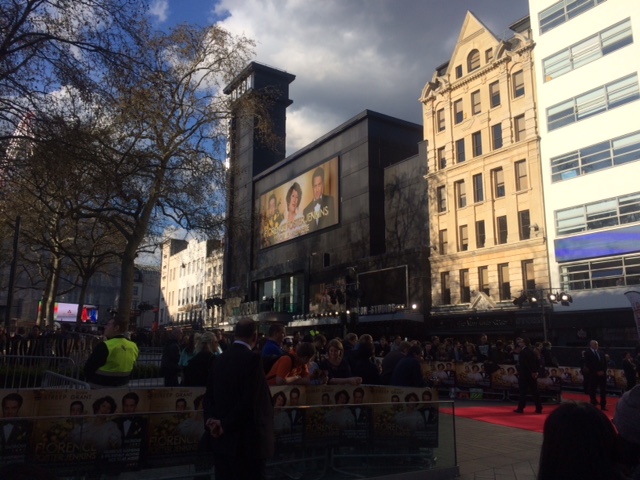 The Odeon Theater, Leicester Square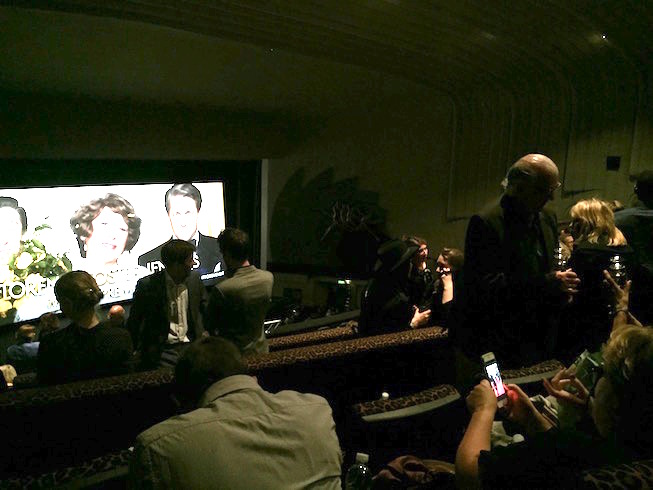 View from my seat at The Odeon



Michael Kuhn gave James and me tickets for the premiere and its after-party. Our seats were located in the balcony against the left wall, appropriately numbered J1 and J2. As we entered the balcony, I noticed that some sort of program was plced on each seat. Upon closer inspection, that program turned out to be a medium size bag of "Proper Corn" brand chips. A bottle of water was also placed in a cup on each arm.

Across the entire red curtain which covered the screen were the three faces of the main characters taken from the official movie poster: Helberg as McMoon, Streep as Mme. Jenkins and Grant as Bayfield.

A television broadcaster came out in front of the curtain and introduced the director, Stephen Frears and producer, Michael Kuhn. He spoke about the movie and its story and the making of it and announced the presence of two special guests: Vicki McMunn Delgado and myself.





The host then introduced one by one onto the stage, Rebecca Ferguson as Kathleen Bayfield, Simon Helberg as Cosme McMoon, Hugh Grant as St. Clair Bayfield (who has been absent for a while from the movie scene), and then there was a huge round of applause for the entrance of Meryl Streep. The lights slowly dimmed.

On April 6th, the day before my departure, Rona Geller, Vice President of Publicity at Paramount Pictures, very kindly arranged a private screening for me at a 72-seat screening room in their offices. I sat on the front row and was enthralled. I was so glad to find that a myriad of details revealed in my documentary have made their way into the movie, thanks to screenwriter Nicholas Martin and director Stephen Frears. There are many beautiful and touching moments. More importantly, it does not go for the comedy aspect, and the complicated relationship between Mme. Jenkins and Bayfield is portrayed with grace and love. McMoon plays a prominent role in the story. I told Ms. Geller that the movie is magnificent. Through her, sometime between now and August 12th (the U.S. release date), I have been asked to participate in one or two segments on CBS Sunday Morning which airs at 9a.m. EST.



Love is better the second time around



I am so grateful that I was able to experience this movie on the 6th in NYC before its premiere on the 12th in London. At the Odeon, I could hear numerous details that I hadn't caught previously, even mere single words and names. Of course, there was the expected laughter at Ms. Streep's singing, which by the way, is so spot-on, any person that is familiar with Mme. Jenkins' recordings, will be astounded. Hers is a sincere tribute in her portrayal, and the complicated relationship between Mmr. Jenkins and Bayfield is given a beautiful treatment by her and Grant. I am very pleased.

Near the end of the credits, James said something to me, and when I made an attempt to reply, the only thing I could produce were tears. I broke down, the culmination of 8 years of constant thinking about Mme Jenkins.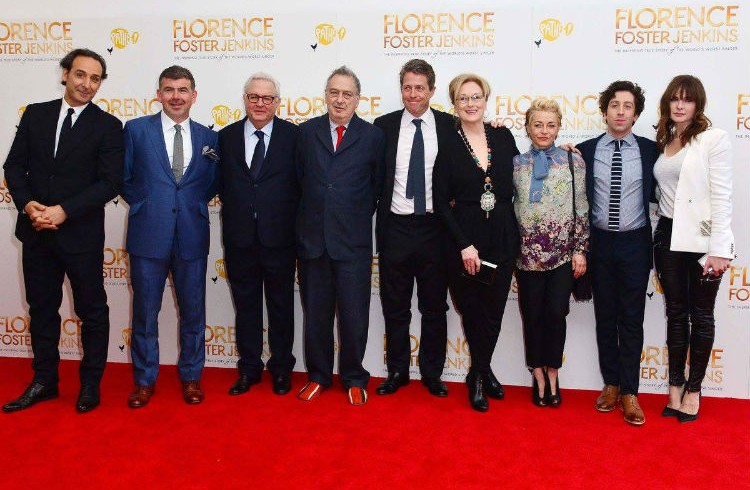 Alexandre Desplat, Nicholas Martin, Michael Kuhn, Stephen Frears, Hugh Grant, Meryl Streep, Tracy Seaward, Simon Helberg, Rebecca Ferguson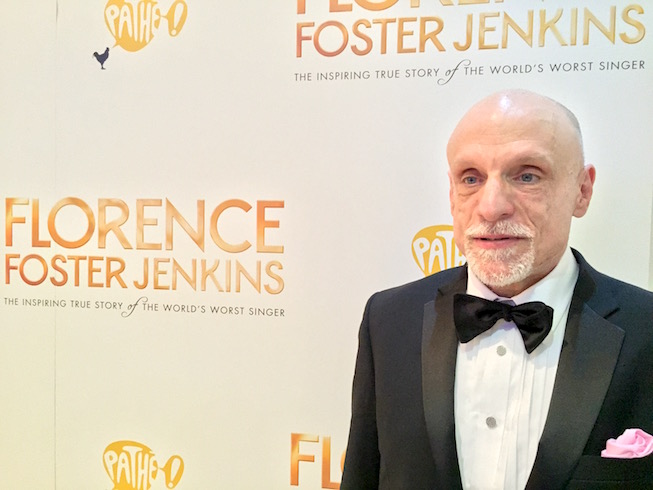 After the movie in the lobby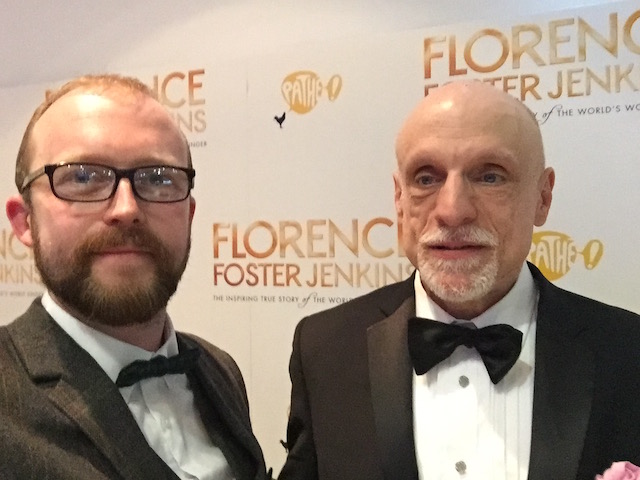 selfie with James McDonald



James and I then walked to the St. Martin's Field Hotel where the after-party was to be held. After passing through security and turning in my invitation card, we entered the large two-level room where hundreds of people had assembled. White wine and hors d'oeuvres were served. Loud music was played. Unfortunately, the batteries of my hearing aids failed near the end.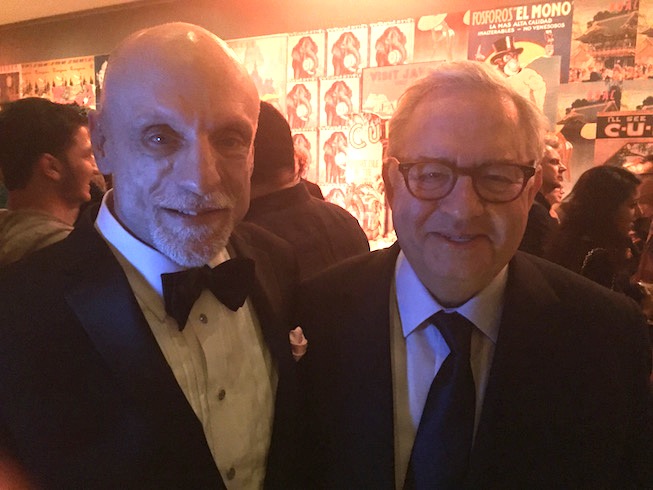 Donald Collup and Michael Kuhn, producer
Donald Collup and Reynolds Delgado
Vicki McMunn Delgado, Donald Collup and Reynolds Delgado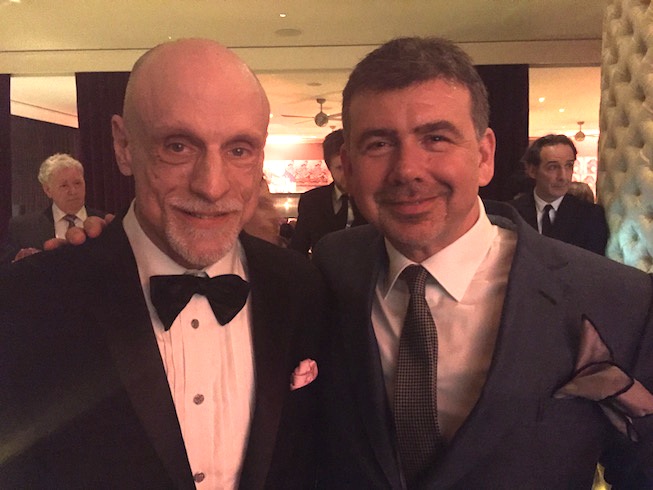 Donald Collup and Nicholas Martin, screenwriter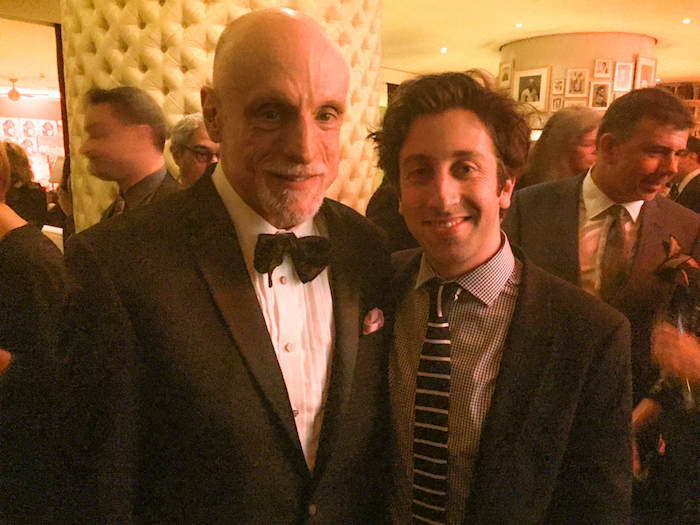 Donald Collup and Simon Helberg (Cosme McMoon)



I met so many people associated with the project including Simon Helberg, Tracy Seaward, Nicholas Martin, Michael Kuhn and Vicki and Reynolds Delgado. James took wonderful pictures. I voiced my request to meet Ms. Streep and James happened to see Tracy Seaward. She firmly grabbed me by the hand and guided me through the throngs of people to a secluded corner of the second level. She introduced me to Ms. Streep, telling her that I was the one who had made the documentary. We shook hands and spoke briefly. She said my movie came in handy. Though I met her just as she was about to leave, I am very grateful for the opportunity.

I took a taxi back to my hotel and stayed up answering emails and writing notes about this incredible day until 3:30 a.m.



Return to Main Page