Gala Farewell To The Old House

Apdil 16, 1966

Photos from the April 29, 1966 issue of LIFE Magazine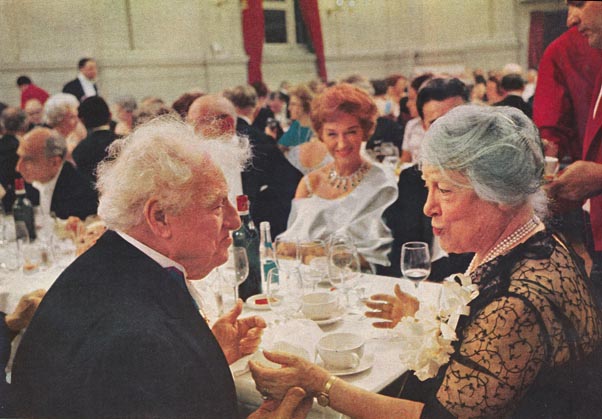 Two old stalwarts of the Met sat together at the Opera Guild dinner: Tenor Giovanni Martinelli, now 81; Mrs. August Belmont, the Guild's founder and lifesaving friend of the Met. In center is Rise Stevens. "I am taking nothing but years of wonderful memories from the old house," said Mrs. Belmont.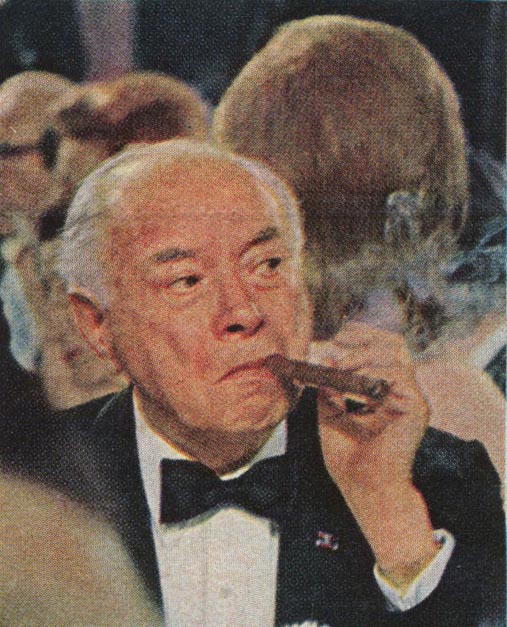 Before farewell performances, habitues dined at Sherry's in the Met. General David Sarnoff (above) recalled standing in the gallery to hear Caruso sing.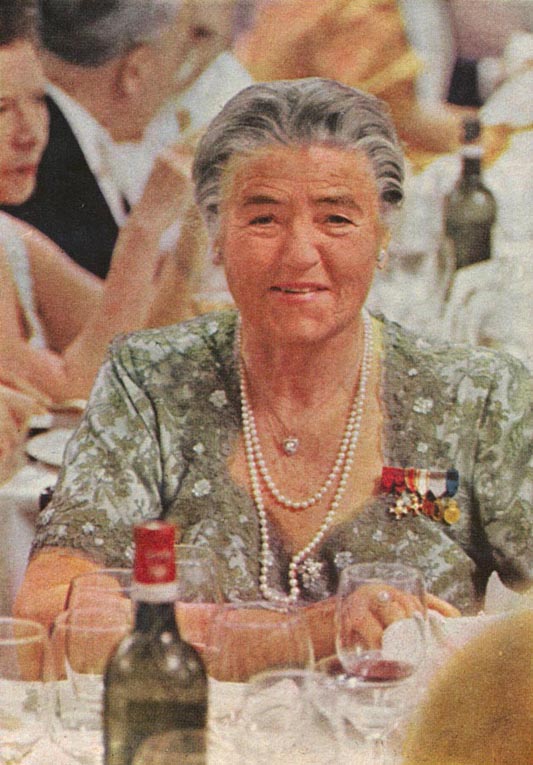 Lotte Lehmann, at Opera Guild dinner, wore her medals - including the French Legion of Honor. She made her debut in 1931 in Walkure. "It was difficult," she said, "to control myselfwhen Jon Vickers sang Wintersturme from Walkiure. The moment he stopped was where I came in as Sieglinde."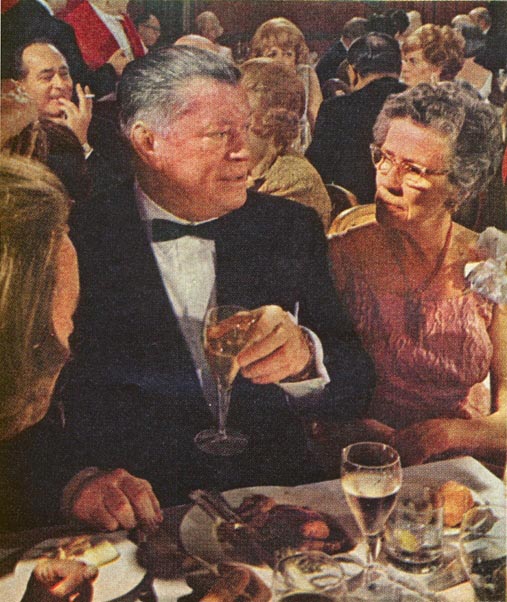 In Sherry's at the pre-gala dinner, the retired heavyweight champion Gene Tunney table-hopped. He has been an Opera Guild member for 39 years.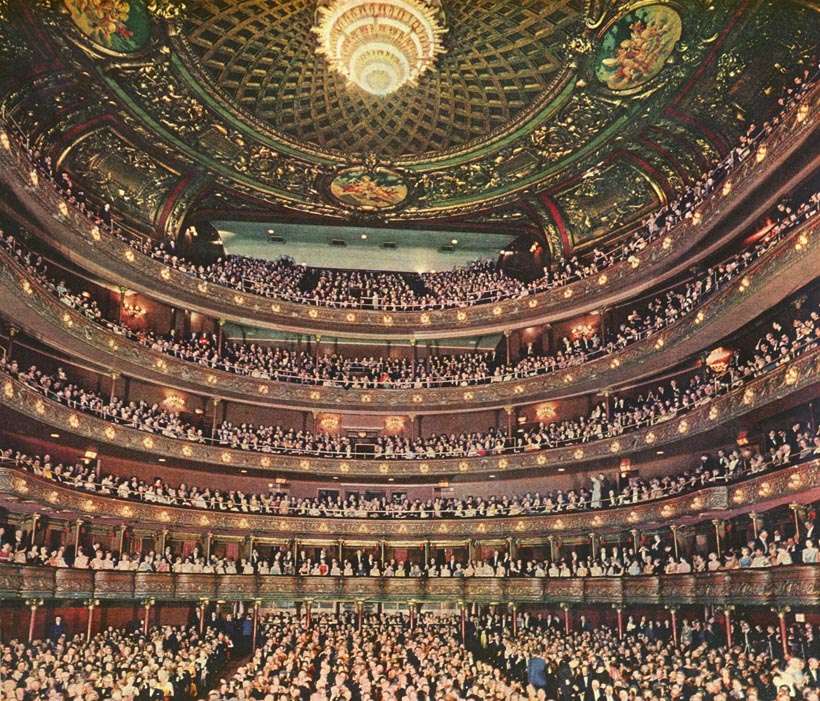 The last Met audience paid up to $200 a ticket and heard 57 stars of the company sing .







Rudolf Bing beckons for parade of ex-stars to begin."This is goodbye to bricks and mortar only," he said. "building is replaceable; friends are not."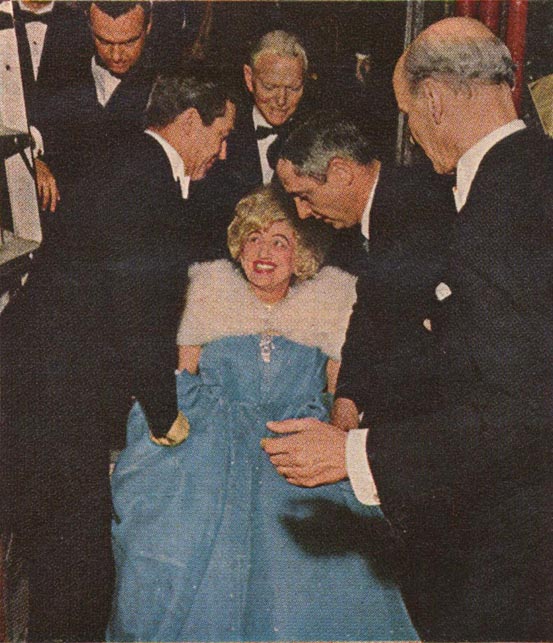 Soprano Marjorie Lawrence, who sang Wagner roles at the Met from a couchafter being paralyzed by polio in 1943, is wheeled toward her place on stage.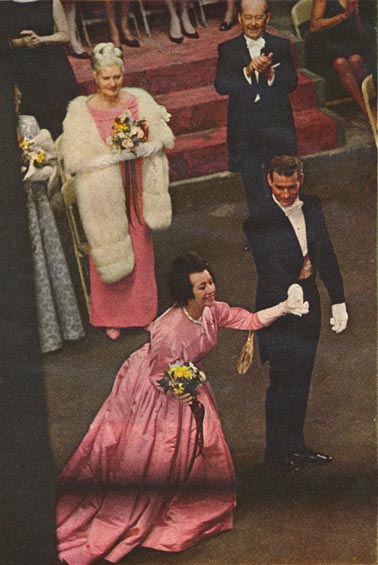 Lily Pons bows graciously, though annoyed not being asked to sing. "The voice is still there," she said.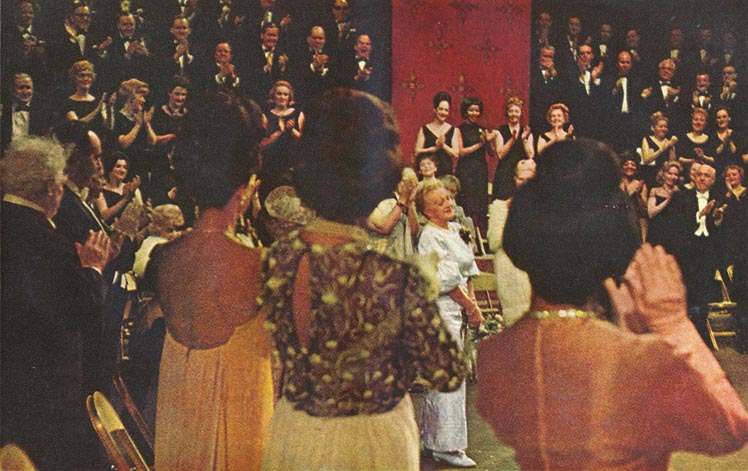 One of the Met's famous Aidas, Elisabeth Rethberg, walks out to an ovation. She retired in 1942, but her husband, George Cehanovsky, sang at the gala.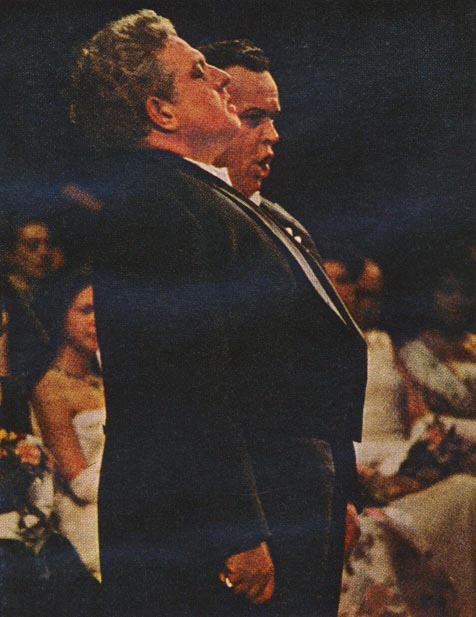 Anselmo Colzani and James McCracken join in duet from Otello. "Covent Garden and La Scala," said McCracken, "are old too, but they would never tear them down."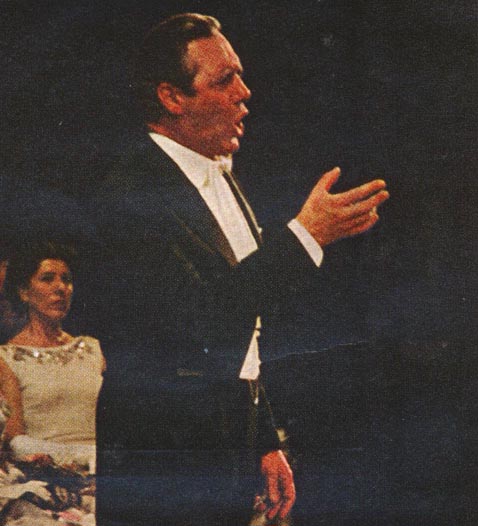 Cesare Siepi sings an aria from Don Carlo.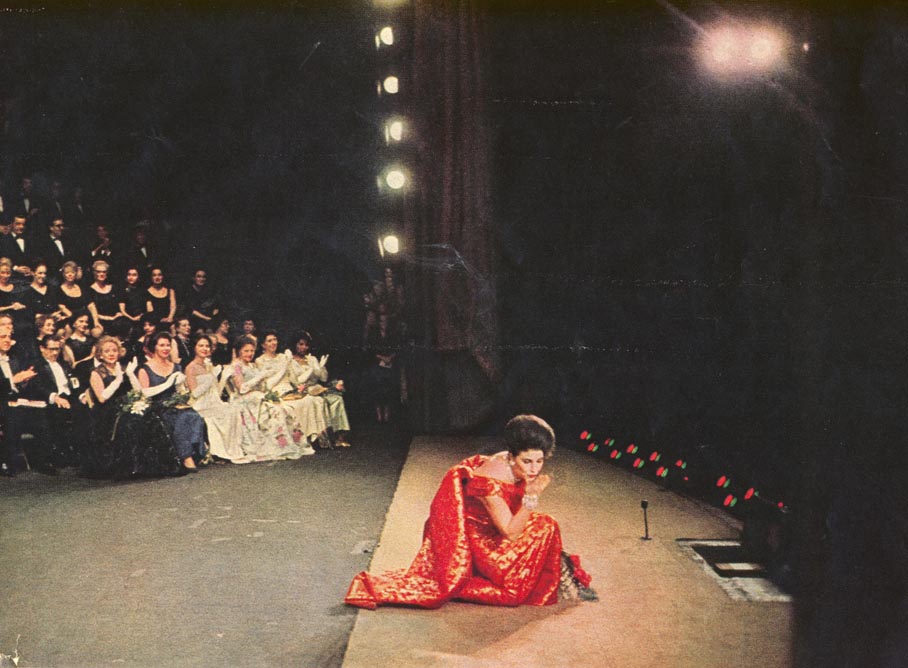 Soprano Licia Albanese, who has done Madama Butterfly 136 times at the Met, sings its famous aria, "un Bel Di." During her curtain call she kneels to kiss the stage. Seated in the first row behind her are retired stars (from left) Richard Crooks, Eugene Conley, Nanette Gilforrd, Herta Glaz, Vilma Georghiu, Anna Case, Rose Bampton and Marian Anderson./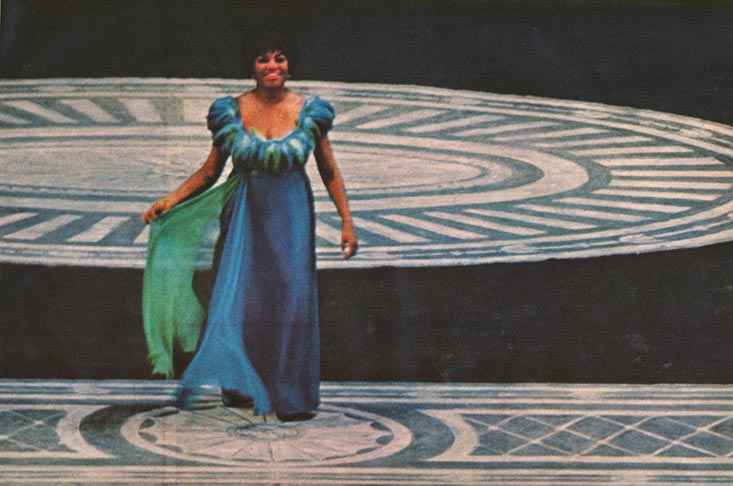 Leontyne Price, first permanent Negro diva at the Met, beamed at the ovation for her aria from Il Trovatore.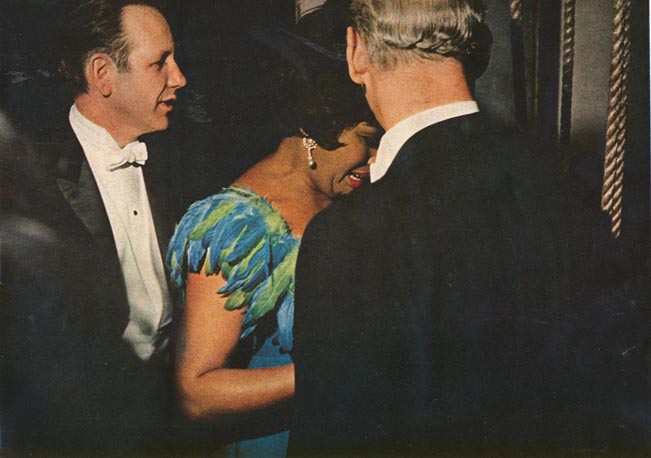 But once offstage she wept. "I'm sorry," she sobbed, "the new house will be wonderful, but it'll never be the same."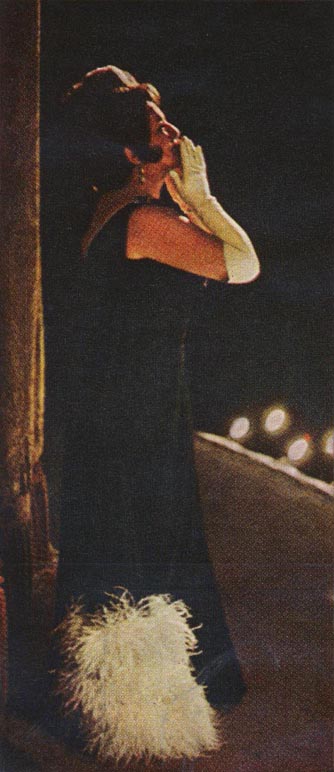 After stopping the five-hour show with her singing of the "Immolation" from the finale of Gotterdammerung, Birgit Nilsson blows kisses to the audience.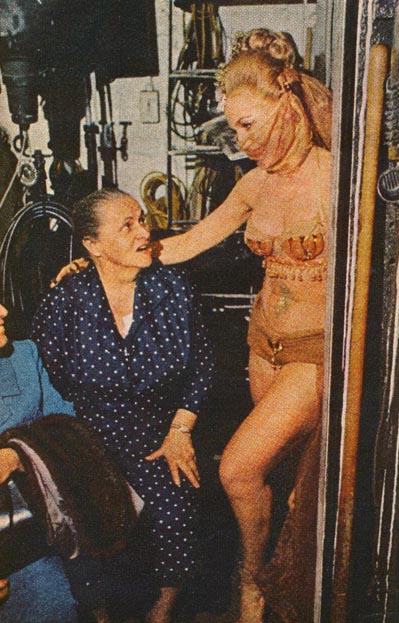 Jenniie Cervini, ex-wardrobe mistress, had an honored seat backstage, chatted with old friends, stars and Suzie Ames, who danced in Aida scene.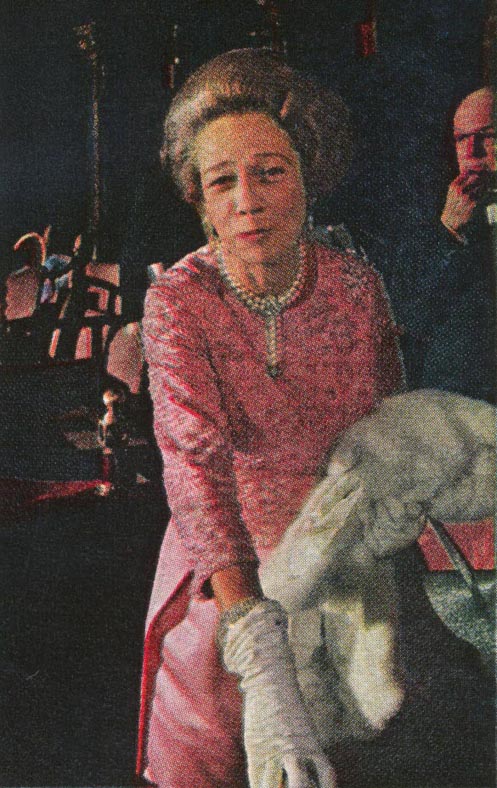 Mrs. Vincent Astor greets friends in Diamond Horseshoe during intermission. "I'm sad," she said, "but how often does an evening like this happen?".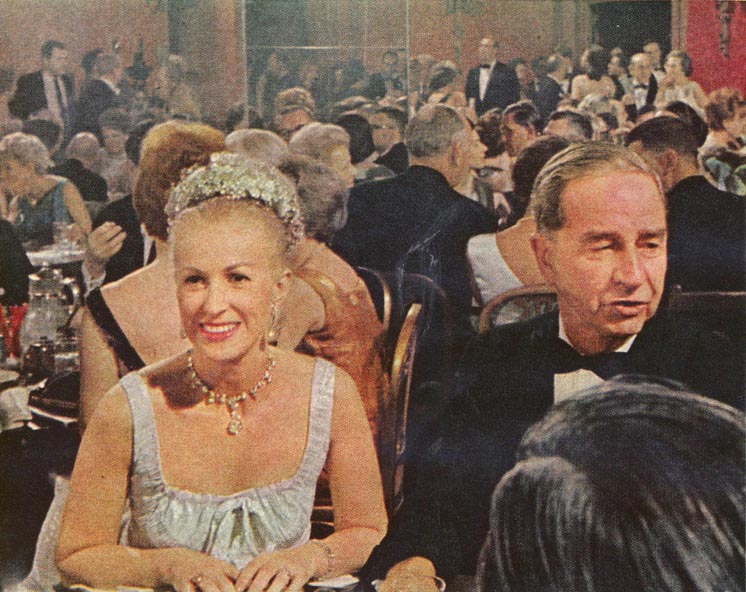 Mrs. Cornelius Vanderbilt Whitney, wearing tiara once owned by Anastasia Empress Elizabeth, and her husband have intermission drinks at Sherry's.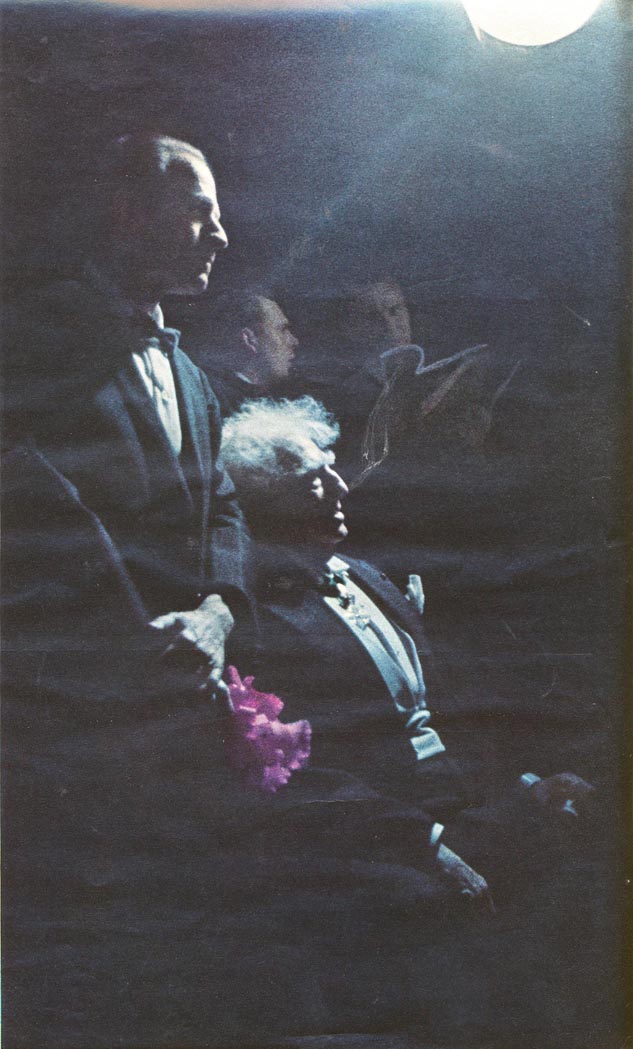 Giovanni Martinelli, who goes back half a century, at the Met to the days of Caruso and Gatti-Casazza, sits in the wings looking out at the stage where he sangleading tenor roles for 32 years.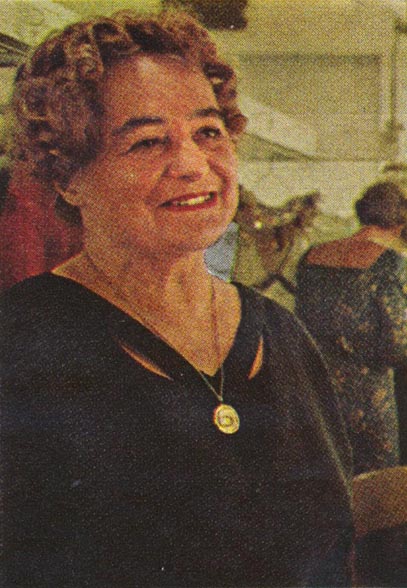 For 56 years, since she was a girl of 16, Marguerite Belleri has been a member of the Met chorus. "Memories rush at me from all sides tonight, " she said.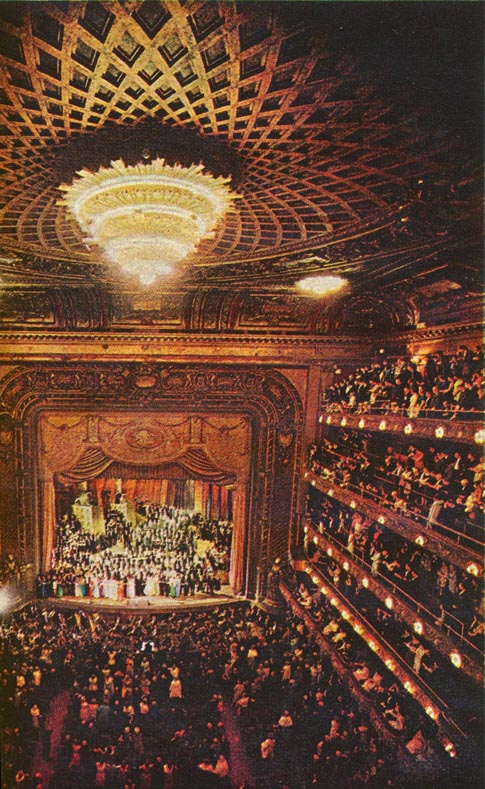 At the end, the audience rises to join those on stage -- stars, carpenters, wardrobe ladies -- in Auld Lang Syne.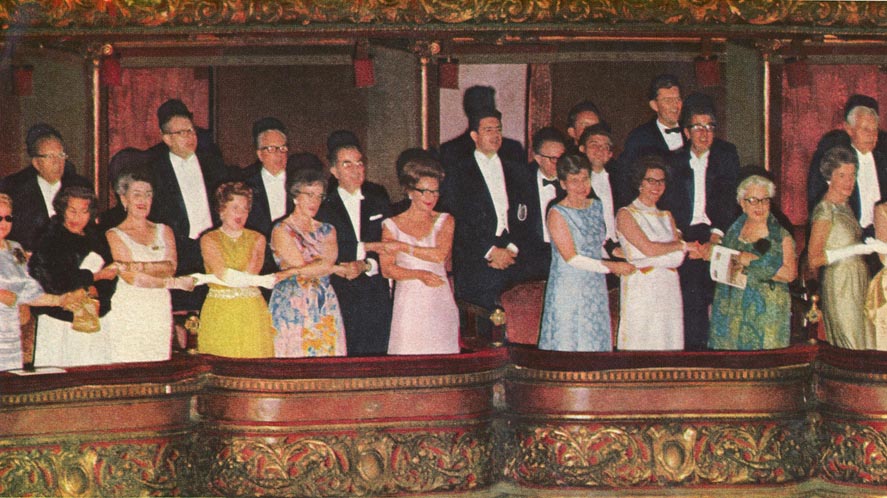 In grand tier boxes, patrons link hands in a great chain as do those on stage.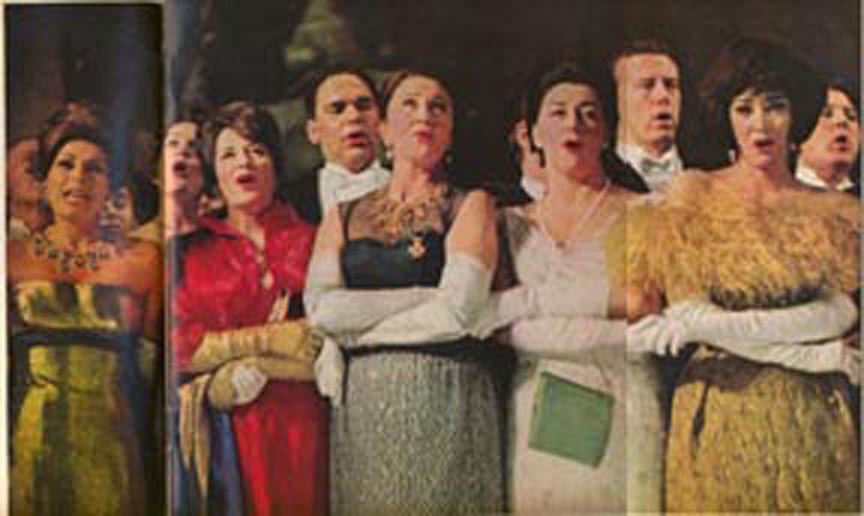 The stars, choking up as they sing, are (from left): Roberta Peters, Nedda Casei, Judith Raskin, Arturo Sergi, Blanche Thebom, Mary Curtis-Verna, Jerome Hines, Anna Moffo and Nicolai Gedda. When the golden curtain finally came down at 1:20 a.m.the singers filed off past Rudolf Bing who repeated to each the famous final word from Pagliacci: finite.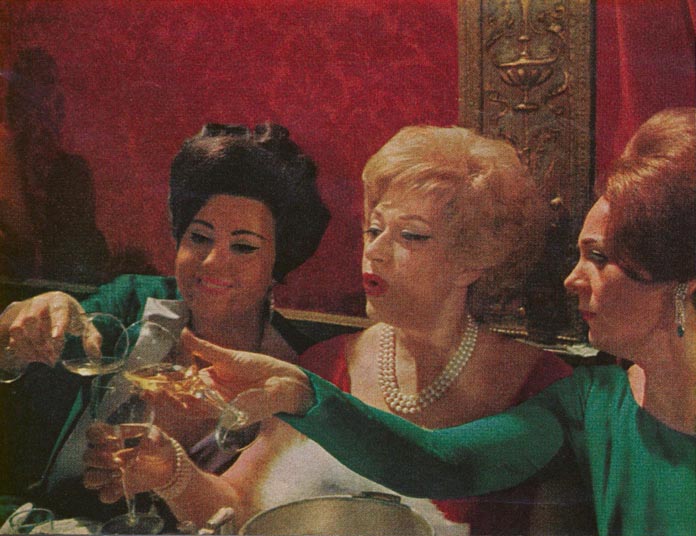 Met sopranos Régine Crespin, Regina Resnik and Renata Tebaldi (left to right)share champagne in a toast. All three performed in the farewell concert.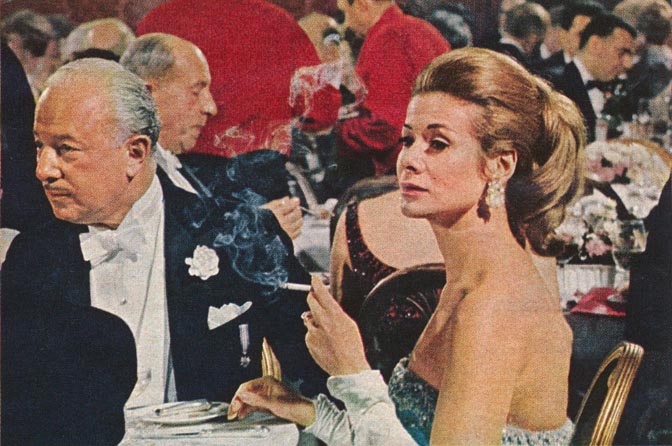 Transport tycoon O. Roy Clark in Sherry's with Mrs. Harvey M. Spear, wife of a New York lawyer. :"The gala was long," she said, "but not long enough."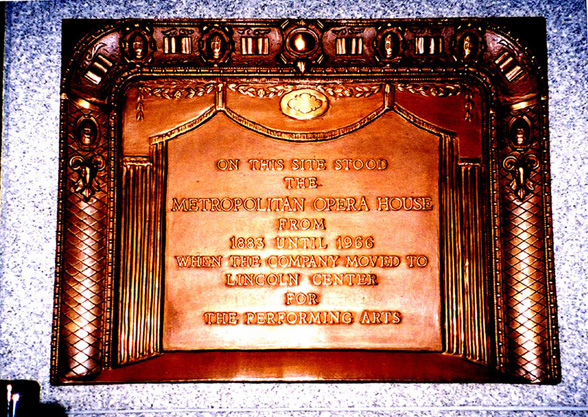 Photo by Jerry Braunstein
Commemorative plaque in the bank building on the site of the old Met.