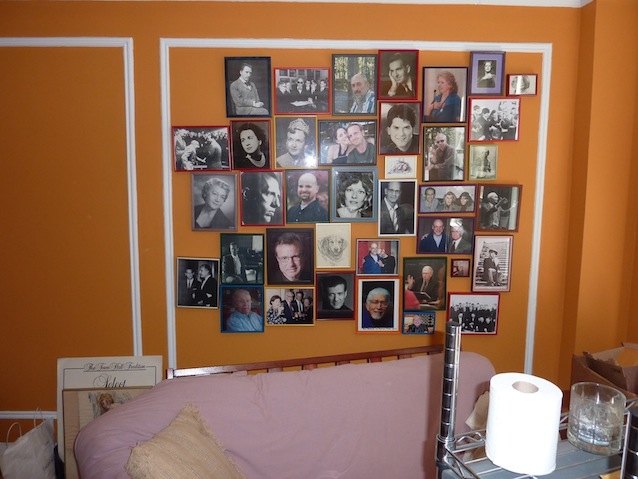 KEY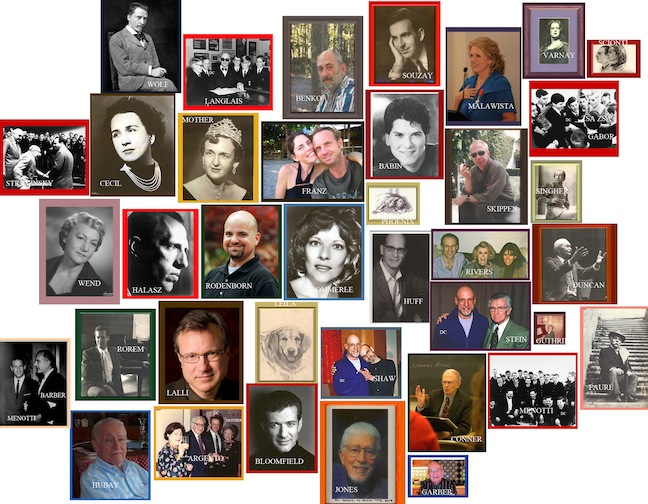 ARGENTO, Dominick
In the fall of 1989, Peabody Institute asked me to participate in a tribute to one of its distinguished alumni, Dominick Argento. On February 2, 1990, I performed his one-man opera A Waterbird Talk. Left to right Mrs. Argento, Mr. Argento, me, my mother. I also performed it on the 22nd.
BABIN, Michael
We met while temping at Ctiibank around 1987.
BENKO, Gregor
He provided all materials and research for my documentary Florence Foster Jenkins: A World Of Her Own, 2007
BLOOMFIELD, John
We met around 1991 and he continues to this day to keeping the paperwork and complicated files of my life in perfect order.
CECIL, Winifred
She was the ource of much philanthropic assostamce in 1983. She founded the Joy In Singing Competition which I won in 1986.
CONNER, Wayne
My first voice teacher, at Peabody, starting in 1974, he planted the seed of a collector in me. one of those people you could ask anything.
DUNCAN, Todd
My second voice teacher at Curtis Institute, beginning in 1979
FAURÉ, Gabriel
One of my two favorite composers
FRANZ, Stephanie, Manuel
"Dog friends" Mac friend, same-sense-of-humor friend since 1997, now living in Atlanta with his wife Stephanie and their daughter Lily
GABOR, Zsa Zsa
Photo taken at the opening of The William Edrington Scott Theater, Fort Worth, 1966
GARBER, Bill
A loyal Fort Worth friend, founder of the Fort Worth Community Theater, 1969
GUTHRIE, Faye Logan
My first piano teacher, 1965
HALASZ, Kalman
Pupil of Kodaly, accompanist for the Texas Boys Choir, he taught me how to sightread music
HUBAY, Alfred
Collaborator in the Jenkins movie and my upcoming operatic podcast, 2004
HUFF, Walter
My accompanist, 1978
JONES, Tom
"Dog friend", an inspiration and teacher, 1997
LALLI, Richard
Friend, colleague, teacher, accompanist, coach since 1984
LANGLAIS, Jeanv Composer of "Canticle to the Sun" for the Texas Boys Choir, 1966

LEILA
My first golden retriever, 1997

MALAWISTA, Tobé
Made possible the trip to Munich to record my conversation with Astrid Varnay which was the basis for my first documentary, "Never before: The Life, Art & First New York Career of Astrid Varnay", 2003

MENOTTI, Gian-Carlo
Photo taken at the opening of The William Edrington Scott Theater, Fort Worth, 1966

MENOTTI, Gian-Carlo / BARBER, Samuel
I met Samuel Barber at the Van Cliburn Competition in Fort Worth in the late 1970s; Gian-Carlo Menotti heard me sing in 1980 at a Barber Birthday tribute at Curtis Institute, then asked that I sing at Barber's funeral in 1981.

MOTHER
President, Daughters of the Nile, early 1950s

OMMERLE, Jeanne
Force behind apartment makeover, colleague, 1991

PHOENIX
My second golden retriever, 2001

RODENBORN, Ted
Taught me how to use the video production software Final Cut Pro, assistant producer of my documentaries, 2004

RIVERS, Joan
Delivered Christmas dinner, God's Love We Deliver, 1996

ROREM, Ned
Wrote "Three Calamus Poems" for me, 1982

SHAW, Jeffrey
Mac guru, 1999

SINGHER, Martial
Prepared the role of Pelléas with him, Music Academy of the West, 1984

SKIPPEN, John
Ex-boyfriend 1981

SOUZAY, Gérard
Teacher of song interpretation, 1979

STEIN, Jack
Read to me the biography of Astrid Varnay, benefactor for documentaries

STRAVINSKY, Igor
Photo taken during recording session, Stravinsky conducting Perséphone, 1966

VARNAY, Astrid
Subject of my first documentary

WEND, Flore
Inspiration for art song, 1974

WOLF, Hugo
One of my two favorite composers